When searching for Kdrama recommendations, one show that always popped up was It's Okay to Not Be Okay. This romantic drama was said to have everything and more. Well, they were right. It's Okay to Not Be Okay tells the story of a psychiatric hospital employee, Moon Gang-tae and children's author, Ko Moon-young, two souls destined to be together, but kept apart by the demons of their past. It's an emotionally intense show, one that is both addictive and moving. There's a sensitivity in the exploration of mental health, and thanks to a stellar cast, we are taken on a breathtaking journey of loss, hope, and healing. Here are 5 reasons you need to be watching It's Okay to Not Be Okay.
Presentation of Mental Health
Mental health is a prevalent point of discussion throughout the show, but not once does it exploit these issues for the sake of entertainment. There's a sensitivity in its handling that does not stigmatise mental health. The entire series predominantly takes place within the OK Psychiatric hospital and interact with the patients that have a story to tell and struggles to face. These patients are not helpless, just individuals that seek additional support in understanding their diagnosis. In doing so, they come to emphasise the importance of not letting your mental illness define you. This is further explored in our interactions with two of our lead characters.
Ko Moon-young is said to have an Antisocial Personality Disorder. She is sometimes impulsive, aggressive, and struggles to empathise with others. She refrains from creating any longstanding friendships, and while she appears cold and removed, she is someone that displays a deep emotional core. Throughout the show, we see how her childhood shaped her into the woman she is today, but as her connection with Moon Gang-tae deepens the chinks in her armour reveal themselves and she allows herself to accept the support from others when she is pushed to the limit, and in turn, they come to accept her.
We also have Moon Sang-tae, the older brother to Moon Gang-tae, diagnosed with Autism. At the start of the show, Sang-tae is seen to be a man dependant on the support of his young brother, but he is never perceived as helpless. He may struggle to communicate with others, but he is not cut off from the world and also has a deep longing for independence as an aspiring illustrator. His journey is one of the most endearing elements of this show, and in the 16 episodes, we see him coming to his own as an older brother and an artist.
Fairytales
Ko Moon-young is a prolific children's writer, and these fairytales offer a poignant reflection linked to the conflicts raised in their respective episode. Moon-young also gets the opportunity to discuss the nature of these tales in a class at the psychiatric hospital. This class adds a dose of humour but also highlights the art of interpretation as Moon-young's bleak and realistic take on the moral of the story often clashes with the romanticised notion that we're led to believe is pure. Every episode in this show is named after a tale, and throughout the episode, we are treated to illustrated sequences that immerse you in the story. The artwork featured when recounting these tales is mesmerising and haunting, using the illustrations as an eerie reflection of the darkness clouding over the heads of these characters. For centuries folklore, fairytales, and mythology have often been constructed and adapted to reflect the social and cultural nature of their times, and It's Okay to Not Be Okay draws on that knowledge, intertwining these tales in moments that provoke a strong emotional reaction from our characters. It's an additional layer of depth that likens the characters to these tales, one that is a symbolic representation of their state of mind at the time, and of their growth throughout the season.
Mystery
Going into this show, two things were certain; romance and mental health representation. What was surprising was the added layer of mystery that was sprinkled in the narrative. We know that our titular characters have all suffered some childhood trauma, but the lingering mystery behind some of these events slowly reveals itself throughout the series. Moon-young, Sang-tae, and Gang-tae have been shaped by these traumatic events, and while you can work out some threads in this mystery, some revelations will catch you off guard. The lives of these individuals have been linked since childhood, but the truth behind the circumstances of a sequence of horrific events tests the bonds of these characters and forced them to confront the memories that have so clearly haunted them.
Family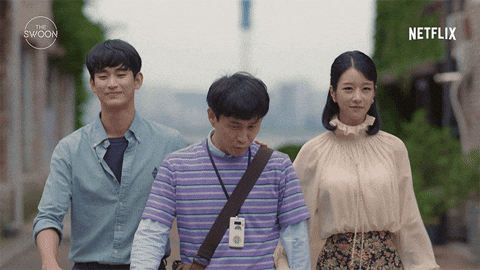 Family is at the heart of this show, and while the focus remains to be on the brothers and Moon-young, we are also introduced to several supporting characters that carry our leads in times of distress. The people that are so often kept at an arms-length prove to be a valuable source of strength for our leads, even when they don't recognise such support. There's also a breathtaking exploration of complicated family dynamics as we explore the toxicity within the family and the contrast in their unconditional sense of duty and love that continues to fester into adulthood. Nevertheless, despite the conflict and hurt, the connection between Moon-young and the brothers is beautifully explored, with Gang-tae often being the voice of reason between his brother and Moon-young. He has given so much of his life to others, it's easy to regard him as the protector of the family. However, when Gang-tae is backed against the wall and the toll of being the pillar of support threatens to crumble the last of his resolve, it is Sang-tae that rises as the protector of the family. In the face of his greatest fear, Sang-tae shows just how much he loves his little brother and Moon-young, the author he admired for so long, and the woman he now calls friend and sister. It's Okay to Not Be Okay makes you confront the balance between family duty and personal welfare, but also beautifully highlights the many ways a family can manifest itself in those you surround yourself with.
Healing
In 16 episode, our characters undergo some tremendous character growth. Much of that growth is centred on the healing process that helps characters find peace and strength in themselves and each other. It's a beautiful message, one that is authentically developed as we explore the small victories, the setbacks, and acceptance of one's self. It's about not letting your limitations define you or stopping you from pursuing your goals. It's not just our leads that undergo this process of healing as our side characters confront their fears to start that healing process. These moments are often emotionally charged and emphasise the weight that's placed on their shoulders. Alongside this exploration of family, we also come to realise how family can both help and hinder that recovery process and that everyone's path of healing is different. It's Okay to Not Be Okay beautifully takes us on the often hard yet freeing path of healing.
What did you think of It's Okay to Not Be Okay?
Do you have a favourite character?
Any Kdrama recommendations?