Originally created by Jill at Breaking The Spine, and adapted to Can't Wait Wednesday by Tressa at Wishful Endings, Waiting on Wednesday is a weekly meme that spotlights upcoming releases that we're eagerly anticipating.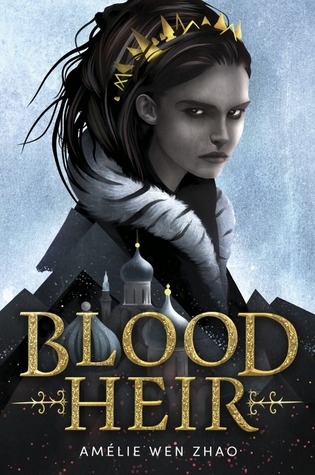 This week I am waiting on
Blood Heir (Blood Heir, #1) by Amélie Wen Zhao
Publication Date: November 19th, 2019
Goodreads Summary
This hot debut is the first book in an epic new series about a princess hiding a dark secret and the con man she must trust to clear her name for her father's murder.

In the Cyrilian Empire, Affinities are reviled. Their varied gifts to control the world around them are unnatural—dangerous. And Anastacya Mikhailov, the crown princess, has a terrifying secret. Her deadly Affinity to blood is her curse and the reason she has lived her life hidden behind palace walls.

When Ana's father, the emperor, is murdered, her world is shattered. Framed as his killer, Ana must flee the palace to save her life. And to clear her name, she must find her father's murderer on her own. But the Cyrilia beyond the palace walls is far different from the one she thought she knew. Corruption rules the land, and a greater conspiracy is at work—one that threatens the very balance of her world. And there is only one person corrupt enough to help Ana get to its core: Ramson Quicktongue.

A cunning crime lord of the Cyrilian underworld, Ramson has sinister plans—though he might have met his match in Ana. Because in this story, the princess might be the most dangerous player of all.
---
In case you didn't know, I have a soft spot for morally ambiguous and corrupt kingdoms. Those worlds add layers upon layers of potential. When you also have a murder mystery on your hands and a princess on the run, there's bound to be heaps of trouble.
What's your most anticipated book?