Originally created by Jill at Breaking The Spine, and adapted to Can't Wait Wednesday by Tressa at Wishful Endings, Waiting on Wednesday is a weekly meme that spotlights upcoming releases that we're eagerly anticipating.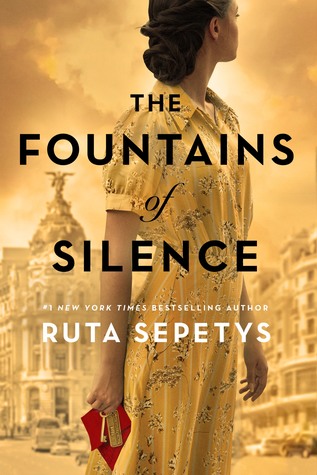 This week I am waiting on
The Fountains of Silence by Ruta Sepetys
Publication Date: October 22nd, 2019
Goodreads Summary
Madrid, 1957. Under the fascist dictatorship of General Francisco Franco, Spain is hiding a dark secret. Meanwhile, tourists and foreign businessmen flood into Spain under the welcoming guise of sunshine and wine. Among them is eighteen-year-old Daniel Matheson, the son of a Texas oil tycoon, who arrives in Madrid with his parents hoping to connect with the country of his mother's birth through the lens of his camera. Photography–and fate–introduce him to Ana, whose family's interweaving obstacles reveal the lingering grasp of the Spanish Civil War–as well as chilling definitions of fortune and fear. Daniel's photographs leave him with uncomfortable questions amidst shadows of danger. He is backed into a corner of decisions to protect those he loves. Lives and hearts collide, revealing an incredibly dark side to the sunny Spanish city.

Master storyteller Ruta Sepetys once again shines light into one of history's darkest corners in this epic, heart-wrenching novel about identity, unforgettable love, repercussions of war, and the hidden violence of silence–inspired by the true post-war struggles of Spain.

Includes vintage media interstitials, oral history commentary, photos, and more.
---
Salt to the Sea remains to be one of my favourite historical fiction novels. It was a beautifully moving story highlighting an overlooked event in history. The Fountains of Silence sounds like an equally as incredible book and I love this emphasis on photography within a tumultuous period. A picture can capture so many moments and visually displays humanity at it's worst and best. I can't wait to see how this is explored in the book, especially with its dark setting.
Have you read a Ruta Sepetys book?
What's your most anticipated book?