How is it that we've already welcomed a new year? Did we press fast forward or something cause it feels like 2018 could have used another week.
Anyway, it's officially time to say goodbye to 2018. It's been quite the year with some glorious highs and some difficult times. However, there I'm not going to dwell on the negatives and instead want to spotlight the brighter achievements of 2018. To start, I started a new job at my local library and so far it's been a great experience. I've also made a start on my driving lessons with the hopes of passing by spring this year. Personally, one of the ultimate highlights of 2018 was my trip to Canada. That first solo trip is always daunting and there was a lot of doubt at times, but I can honestly say I had the time of my life during that month. I met some wonderful people, had some incredible experiences, and learned a lot about myself along the way. It feels like an age since that trip, but it has definitely made me hungry to do more traveling. I'm excited to ring in this new year. It's going to be slightly chaotic since I'm starting a third job, but it's also a new experience which is very much valued.
Now, on the blog, I decided to take a step back over December. I had a week off from work and I decided that I needed the time to relax and enjoy the festivities with my family. I didn't finish a book in December, most of my time was occupied by family and Netflix, but I did make a start on Brandon Sanderson's Elantris. If you've ever read a Brandon Sanderson novel, then you will know that they are quite the undertaking. Nevertheless, I am enjoying the book and am hoping to finish the book in the coming weeks.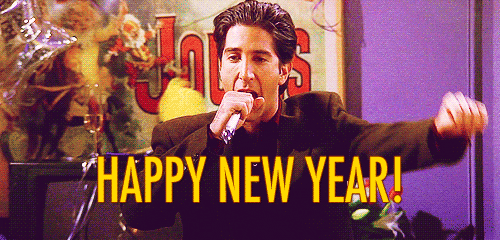 Top Ten Tuesday
11th December: Christmas Classics
25th December: Bookish Wish List – Christmas Edition
Waiting on Wednesday
5th December: 99 Percent Mine
12th December: The Patron Saints of Nothing
19t December: The Merciful Crow
TV and Film
2nd December: Another addition to my 'What I've Been Watching' feature and here I spotlight the latest TV shows I've been watching.

Discussion
For my final discussion post of the year, I decided to spotlight the pros and cons of reading a series.
Favourite Posts in December

Nyx @ Drizzle & Hurricane Books explains why she doesn't do rereads.
Holly @ The Fox's Hideaway spotlights the importance of girl-power stories.
Nicole @ Feed Your Fiction Addiction wants to know if you're an email hoarder.
Trang @ Bookidote provides some essential blogging tips.
Angela @ Musings of a Literary Wanderer asks how you define success as a book blogger.
Beth @ Reading Every Night wonders why reviews are so hard to write and so unpopular in the blogging community.
2019 Goals
I'm not the best at setting goals and following through on them. A lot of the time I forget about them because I rarely write them down. Other times I get consumed by life obligations that I just feel unmotivated to even think about the goals. I like to be realistic with my goals, even though I am a hopeless dreamer at heart. However, I have a small list of blogging and personal goals I'd like to meet in 2019. They are;
Pass my driving test – My instructor is happy with my progress so hopefully, I can pass in the Spring.
Travel to at least 2 destinations – I'm likely to take city breaks this year just because I have so much going on that I need to prioritise, but I still have a desperate yearn to travel.
Try and find a work/life balance – time management seems to be the key to this and I need to remember to shut off once I finish work and have some 'me' time.
Trust myself and take chances – I'm terrible for doubting myself and am even better at talking myself out of things. It's a habit I am trying to break and have slowly made progress on that front. It's easy to let fear stop you from taking chances and I tend to think about others before myself, but from past experiences, I've learned that taking chances often comes with great rewards and some surprises along the way.
On the Blog;
Be more engaged –

I'm the first to admit that my engagement levels on the blogosphere have taken a hit, especially on the blog hopping front. It's my goal to improve on that this year. It might not be consistent, but I do want to make more of an effort.

Read – Reading took a big step back in 2018. I read 11 books which are not the best, but I also know that I wasn't in the mood to read and the last thing I will ever do is force it. So, I want to read more books this year, but I won't force myself to do so.
Relax –

Blogging is a hobby, not an obligation and I need to calm down and not let the pressure of blogging and everything that comes with it get to me. I love blogging and the community it creates, but I also know that sometimes I need to take a break and focus on me or just have lazy weeks. Blogging should always be about fun and I never want to stop having fun on this blog.
I hope you all have a wonderful New Year.
What was your highlight of 2018?
What are your goals for 2019?