Originally created by Jill at Breaking The Spine, and adapted to Can't Wait Wednesday by Tressa at Wishful Endings, Waiting on Wednesday is a weekly meme that spotlights upcoming releases that we're eagerly anticipating.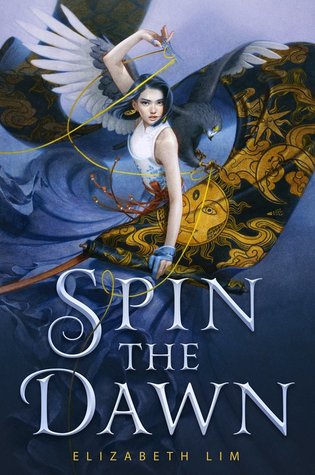 This week I am waiting on
Spin the Dawn (The Blood of Stars, #1) by Elizabeth Lim
Publication Date: July 30th, 2019
Goodreads Summary
Project Runway meets Mulan in this sweeping YA fantasy about a young girl who poses as a boy to compete for the role of an imperial tailor and unexpectedly falls for the court magician in the process.

When Maia Tamarin is presented with an opportunity to change her fortunes, she doesn't think twice about dressing as a boy and traveling to the Summer Palace to attain it. She knows she could lose her life if she is discovered, but the risk is worth it to save her family from ruin and achieve her own dream of becoming tailor to the emperor. There's just one catch: Maia is one of twelve tailors vying for the job.

Backstabbing and lies run rampant as the tailors compete in a series of challenges to prove their artistry and skill. Maia's task is further complicated when she draws the attention of the court magician, Edan, whose piercing eyes seem to see straight through her disguise.

But nothing could prepare her for the final challenge: Maia must sew three magic gowns for the emperor's reluctant bride-to-be, from the laughter of the sun, the tears of the moon, and the blood of stars. With this impossible task before her, she embarks on a journey to the far reaches of the kingdom, seeking the sun, the moon, and the stars, and finding more than she ever could have imagined. . . .
---
Well, this book sure sounds like a dark and magical ride. I didn't know tailoring could be such a dangerous occupation, especially with all the lies and backstabbing that take place. I'm curious to see if Maia succeeds in creating these magical gowns, and the characters she'll meet along the way.
What's your most anticipated book?