Originally created by Jill at Breaking The Spine, and adapted to Can't Wait Wednesday by Tressa at Wishful Endings, Waiting on Wednesday is a weekly meme that spotlights upcoming releases that we're eagerly anticipating.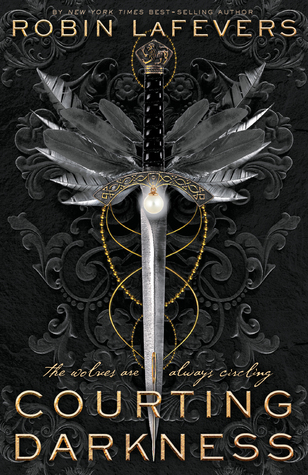 This week I am waiting on
Courting Darkness by Robin LaFevers
Publication Date: February 5th, 2019
Goodreads Summary
Death wasn't the end, it was only the beginning…

Sybella has always been the darkest of Death's daughters, trained at the convent of Saint Mortain to serve as his justice. But she has a new mission now. In a desperate bid to keep her two youngest sisters safe from the family that nearly destroyed them all, she agrees to accompany the Duchess to France, where they quickly find themselves surrounded by enemies. Their one ray of hope is Sybella's fellow novitiates, disguised and hidden deep in the French court years ago by the convent—provided Sybella can find them.

Genevieve has been undercover for so many years, she struggles to remember who she is or what she's supposed to be fighting for. Her only solace is a hidden prisoner who appears all but forgotten by his guards. When tragedy strikes, she has no choice but to take matters into her own hands—even if it means ignoring the long-awaited orders from the convent.

As Sybella and Gen's paths draw ever closer, the fate of everything they hold sacred rests on a knife's edge. Will they find each other in time, or will their worlds collide, destroying everything they care about?
---
This book sounds dark and twisted, which is basically everything I love in fantasy, especially a historical fantasy. The concept of an undercover agent is so fascinating cause there are so many paths that can be explored. Does this agent get in too deep, do they form attachments, can they really go back to who they were once the mission is complete? Courting Darkness is definitely a book you want to be adding to your tbr list.
What's your most anticipated book?