Originally created by Jill at Breaking The Spine, and adapted to Can't Wait Wednesday by Tressa at Wishful Endings, Waiting on Wednesday is a weekly meme that spotlights upcoming releases that we're eagerly anticipating.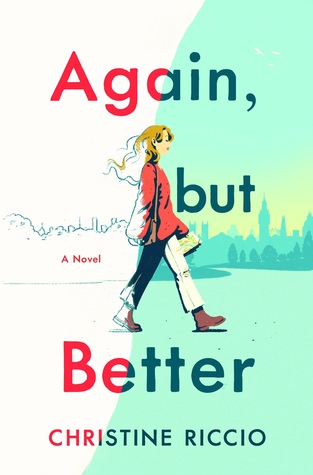 This week I am waiting on
Again, But Better by Christine Riccio
Publication Date: May 21st, 2019
Goodreads Summary
Shane has been doing college all wrong. Pre-med, stellar grades, and happy parents…sounds ideal — but Shane's made zero friends, goes home every weekend, and romance…what's that?

Her life has been dorm, dining hall, class, repeat. Time's a ticking, and she needs a change — there's nothing like moving to a new country to really mix things up. Shane signs up for a semester abroad in London. She's going to right all her college mistakes: make friends, pursue boys, and find adventure!

Easier said than done. She is soon faced with the complicated realities of living outside her bubble, and when self-doubt sneaks in, her new life starts to fall apart.

Shane comes to find that, with the right amount of courage and determination one can conquer anything. Throw in some fate and a touch of magic – the possibilities are endless.
---
I don't watch a lot of Booktube, but this book sounds right up my alley. I always thought about doing that year abroad. Unfortunately, I never went through with it. That's not to say my university experience wasn't great, it was. Now, Shane sounds like a character I can seriously relate to. It is easy to stick with what you know, and what feels safe, but I've found that the most rewarding experiences have been the ones where I've taken risks. It's not always easy, and it can be awkward, but in the long run, it's worth it. I can't wait to see where Shane's journey takes her and how her experiences help shape her.
What's your most anticipated book?