Waiting on Wednesday is a weekly meme, created by Jill at Breaking The Spine, that spotlights upcoming releases that we're eagerly anticipating.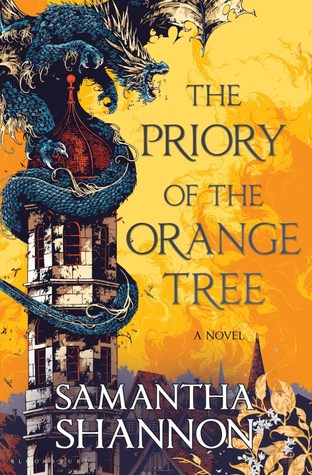 This week I am waiting on
The Priory of the Orange Tree by Samantha Shannon

Publication Date: February 26th, 2019
Goodreads Summary
A world divided.
A queendom without an heir.
An ancient enemy awakens.

The House of Berethnet has ruled Inys for a thousand years. Still unwed, Queen Sabran the Ninth must conceive a daughter to protect her realm from destruction—but assassins are getting closer to her door.

Ead Duryan is an outsider at court. Though she has risen to the position of lady-in-waiting, she is loyal to a hidden society of mages. Ead keeps a watchful eye on Sabran, secretly protecting her with forbidden magic.

Across the dark sea, Tané has trained all her life to be a dragonrider, but is forced to make a choice that could see her life unravel.

Meanwhile, the divided East and West refuse to parley, and forces of chaos are rising from their sleep.
---
Can we all take a moment to appreciate the absolute beauty that is this cover? It looks so fierce and majestic you can't help but be drawn to it. On top of that, 'The Priory of the Orange Tree' sounds like a tale that demonstrates the various strengths of women. Between the Queen, the lady-in-waiting, and the dragon rider, we have three women who all have a part to play in this tale. The political and magical influences within this world also sound incredibly complex and I can't wait to see how all of these elements come together.
What's your most anticipated book?