Another month has come and gone and we've now entered the final days of 2015…where has the time gone!?
November was another steady reading month for me. A lot of the books I read this month have bombarded me with all sorts of feelings *looking at you, Winter*. I'm pretty sure I'm still recovering from them. November also marks the month I reached my goodreads challenge goal of 40 books so for that I will give myself a pat on the back haha.
These are the books I read and reviewed in November.
Illuminae (The Illumiae Files #1) by Amie Kaufman & Jay Kristoff: 4/5 Stars
Wonderland (Intergalactic Fairy Tales #1) by Robert McKay: 3.5/5 Stars
Everything, Everything by Nicola Yoon: 4/5 Stars
Winter (The Lunar Chronicles #4) by Marissa Meyer: 5 Stars
Features at My Midnight Musing
Top Ten Tuesday
3rd November Author's Whose Sophomore Novels I Need
10th November Book to Film Adaptations
17th November Favourite Book Quotes
24th November: Books I'm Thankful For
Waiting on Wednesday
4th November: The Raven King
11th November: This Savage Song
18th November: The Girl From Everywhere
25th November: The Reader
Tags/Awards
30th November: Season of Book Blogging Tag
Discussions
This month I introduced a new feature, Character Spotlight. Here I talk about the characters that stick with me long after I finish the book. Naturally, for my first character spotlight I talked about the strength of Peeta Mellark.
Favourite Posts for November
Erica @ Novel Ink wrote this wonderful post all about how great it is that people have different opinions.
Nick and Nereyda @ Nick and Nereyda's Infinite Book List treated us to two wonderful discussion posts.
Neryda talks about Book Excitement vs Social Interaction. Here we discuss the role of social media in blogging and the nature of the relationship between bloggers and publishers. Overall this post highlights the fact that there is no right or wrong way to blog.
Nick treated us to this wonderful post about the Tropes That Need to Die in Romance. I could not agree more with this post. I love a bit of romance but these tropes well and truly need to be taken out of the equation ASAP.
Rachel @ A Perfection Called Books  writes this wonderful post in defense of Young Adult books. With all this drama and YA bashing that's been circulating this past month, I found this post to be very relevant to the topic. Stop Bashing YA
Reg @ She Latitude also talks about the appeal of Young Adult novels to adults. Reading Young Adult as an Adult
Rashika @ The Social Potato shares a very personal story on why we need diverse books and everyone should read this. Why Diversity: The Story of Rashika
Josephine @ Josie the Bookworm discusses the use of sex in Young Adult books and whether or not there is too much of an emphasis on Sex in Novels. 
December To Be Read 
I've decided that for the month of December I am not going to set a to be read list. This is because I never seem to stick to this list and so I'm going to go by my mood alone. I've just finished Uprooted by Naomi Novik so I'd say we're off to a good start.
I also plan on reading the much anticipated conclusion to the Starbound trilogy, Their Fractured Light by Amie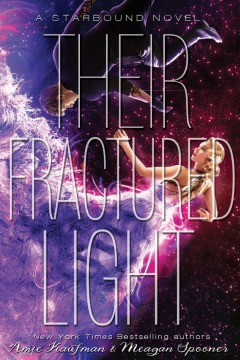 Kaufman and Meagan Spooner. However, I'm going to have to wait until the 17th of December to get my hands on it. 😦
I hope everyone has had a wonderful November and that December proves to be just a great a month. Enjoy the festivities and happy reading.